Welcome to MGM New Bombay College of Nursing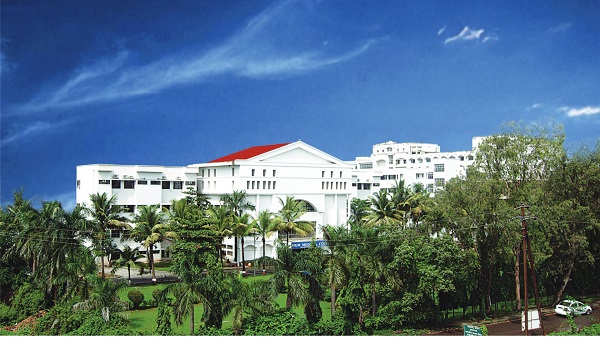 MGM New Bombay College of Nursing, Navi Mumbai is recognized by Indian Nursing Council (INC), New Delhi and Maharashtra Nursing Council (MNC), Mumbai, to offer undergraduate and Post graduate degree programmes in nursing. Innovative teaching learning methods correlating classroom teaching to clinical practice, supervised patient care, continual counseling and guidance, participation in various extra mural activities are few highlights of the institute. MGM New Bombay College of Nursing endeavors to maintain a "student friendly environment" to develop globally competent nurses who are capable to deliver compassionate, safe and effective patient care while keeping abreast of rapid advances in a highly complex health care environment.
A chain of Schools, Engineering, Architecture, Medical, Nursing, Management, Computer Science & IT, Bioinformatics and Biotechnology, Fine Arts and Journalism stand testimony to the endeavours of the Trust.
Graduate Attributes
Effective Communication Skills
Element of Critical Thinking
Prospectus 2023-24
Highlights of NPCC Programme
Courses(Recognized by Indian Nursing Council)
Programmes
Duration
Seats
Under Graduate
Basic B. Sc Nursing
4 years
100
Post Basic B.Sc. Nursing
2 years
30
Post Graduate
M.Sc. Nursing
2 years
25
Medical Surgical Nursing
2 years
10
Obstetrical and Gynaecological Nursing
2 years
4
Child Health Nursing
2 years
4
Community Health Nursing
2 years
4
Mental Health Nursing
2 years
3
Nurse Practitioner in Critical Care (NPCC)
2 years
20
Master of Science in Health Informatics
2 years
PhD Nursing
3 - 5 years
Post Basic Diploma Programmes

Critical Care Nursing
Neonatal Nursing
Cardio Thoracic Nursing
Emergency & Disaster Nursing
Operation Room Nursing

1 year
1 year
1 year
1 year
1 year
Testimonials
MGM…I just wanted to thank you for the great support I received from you. I still remember the first day of college with anxiety, the thoughts of new people; different learning system and new environment were all frightening. But to my surprise the nursing college turned out to be one of my greatest and most enriching experiences in terms of learning and skill development. I met so many precious people at MGMNBCON my classmates, teachers and staff. Their support, advice and love helped me in so many ways. MGM campus ensures a unique and personal learning experience. You are made to feel very welcomed by administrative staff and teachers.
My advice to prospective students, to treat study as a big adventure and feel confident in knowing that MGMNBCON, offers support in each and every step."I look forward to continue my nursing career and am also considering further studies."Study at MGMNBCON has made me aware of different opportunities and look forward to an exciting future.
Of course I feel happy and honoured to be a student of the first batch of MGMNBCON.

"
Ms. Mariya K. Varghese
— Ex-Student
MGM…my greatest motivation When I first arrived, it was very hard for me to get used to the different people, food, everything. But all the staff at MGMNBCON helped me to acclimate here and their support was really wonderful
I feel fortunate to be a student of this college. We are blessed with very senior and experienced faculty. The college has a very conducive atmosphere for education and research. It also allows one to continue their higher studies in the same college up to doctoral lever. I got plenty of opportunities to develop my all round personalities not only through excellent academic atmosphere but also through various co-curricular, cultural and sports activities. I'm so grateful to have met my teachers. They always did their best to help me. I'm also thankful for the friends I made here who gave me emotional and mental support. Because of all of them I didn't give up and here I am!

"
Ms. Anit Antony
-Ex-Student
The college experience at MGM New Bombay College of Nursing is the one that holds many memories for me. My advice to prospective students is to treat study as a big adventure and feel confident in knowing that MGM support is offered at every step. Study at MGMNBCON has made me aware of many opportunities and I now look forward to an exciting future. These were some of the best years of my life. For all this I would like to thank my parents, my institute and each and every member of college for their endless support. I am very proud to be a part of this institution which gave me a lot to grow and become confident about my future.

"
Jincy Joy
— Final year Student
The four years of B.Sc Nursing course from MGM New Bombay College of Nursing has transformed me in a very creative and systematic way and encouraged me to think out of the box. The education at MGM New Bombay College of Nursing can best be described as a journey hallmarked with patience, dedication and learning experiences at each step. I was made to think like a challenger from day one. First year taught me about all basic things of nursing profession. It also demonstrated that competition can bring upfront both my best and my worst. Subsequently exposure to various speciality areas of nursing boosted up my interest and I learnt balancing between academic studies and professional commitments. MGMNBCON gifted me with well trained and supportive professors all throughout my journey in this college. Truly speaking, I am blessed that I selected this institute which gave me lot to grow and become confident about my future.

"
Ms. Anusha Thomas
— Final year Student
I feel, how lucky to be a nursing student at MGM New Bombay College of Nursing, Kamothe. When I first came to this college, I was overwhelmed by the friendly atmosphere and cheerful attitude of the teachers. In just a few months, it became a family for me, where everyone cared for each other. Here, education is not a mere process of learning,but one in which the institute incorporates important moral values like concern for others, kindness, politeness, aesthetic appreciation, and responsibility that develops the minds and strengthens the spirit of students. MGMNBCON has really inspired me a lot in my life. After four years of my journey here, I can see a great change that has taken place in me throughout this period.
I am very happy and lucky to be a part of MGM New Bombay College of Nursing. I thank everyone for moulding me into what I am today.
Thank You...

"
Ms. Jilu Mathew
— Final year student
Someone once told me "God has a great sense of humor…….You'll always land in places where you least want to be!" I entered nursing because my mother asked me to. I don't know if she already knew how it would fern out to be for me, but she was sure that I, as a person would change into a better man, helping the helpless & thus, serving God which was and is my goal in life.
When I joined MGM New Bombay College of Nursing, I was unsure about my future. While I was getting moulded by the college & I was simultaneously being transformed in to a better person that is reflected in my behaviour. This college offers a good variety of teaching aids and encourages the students to explore new ways of delivering the best patient care. The faculty is well experienced and very helpful. All facilities are provided and an advantage for the nursing student is its location in the campus, where the hospital is located too. There are many nursing colleges around the area. But MGMNBCON is not just a college, it is family.
Thank you MGMNBCON for everything.

"
Samuel Mantode
— Final year Student
I would like to extend my personal thanks and gratitude to MGM New Bombay College of Nursing for all the work they do to support nursing students and the faculty members at the college. MGM College of Nursing inspired me to believe in the power of a strong, educated woman. Being surrounded by strong professors who constantly guided and pushed to give my best as a teacher has helped me to gain a successful career. The college creates a safe and non-judgmental environment that allows the students to succeed by providing them with the tools for success. As a faculty member, I have witnessed how students, from a variety of academic backgrounds, have come away with a deeper understanding of course material and a meaningful connection to their discipline. Please keep up the good work.

"
Ms. Geba Ajil Alexander
— Ex- Faculty
'Dreams are not that we see when we sleep, but that which does not allow us to sleep'
Indeed today, MGM New Bombay College of Nursing stand as a dream come true by the support of the management of MGM University and the tireless efforts of the faculty of College of Nursing. Had it not been the systematic planning, aim for perfection and never dying spirit of the teaching and non teaching staff, it would have always been just a dream. I count it as an opportunity to write my experience as an ex-faculty member in this website. I still cherish the valuable experiences I gained at MGM New Bombay College of Nursing, especially in the formal years when the foundation of the college was being laid.
Today, MGM College of Nursing stands as a fully fledged nursing institute offering not only Undergraduate, but also Postgraduate and Ph.D programme in Nursing. All those experiences that that I gained in MGM as a faculty member for teaching, supervising students in the hospital and taking care of them in the hostel, holds so much of importance and enables me while I am shouldering greater responsibilities in management and functioning of an organization today. I will always recommend anyone seeking a career in nursing to join MGM New Bombay College of Nursing for a bright future.

"
Mrs. Jemeema Philipose
— Ex- Faculty